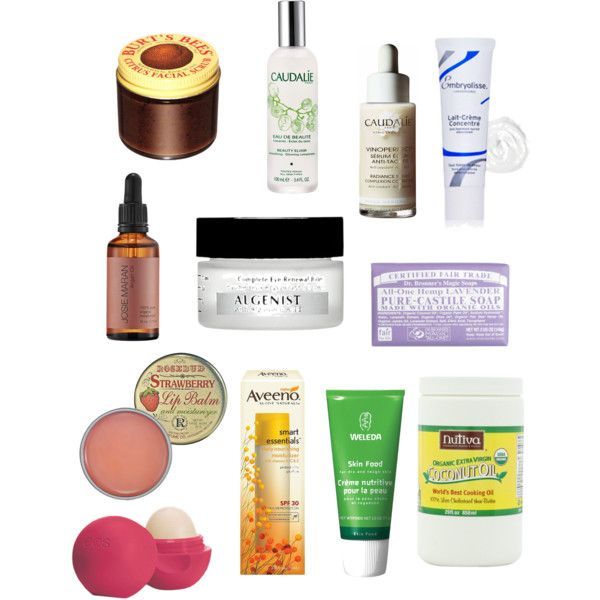 Burt's Bees Citrus Facial Scrub
//
Caudalie Beatuy Elixir
//
Caudalie Radiance Serum
//
Embryolisse Lait Creme Concentre
//
Josie Maran Argan Oil
//
Algenist Eye Cream
//
Dr.Bronner's Lavender Soap Bar
//
Strawberry Rosebud Salve
//
EOS Lip Balm
//
Aveeno Daily Moisturizer SPF 30
//
Weleda Skin Food
//
Organic Coconut Oil
My take on skin care is simple, easy and I do my best to use natural products. I try to stay away from parabens, phthalates, PEG's, fragrances, silicones, etc. I used to think that slathering a ton of different products was going to achieve the best results but boy was I wrong! Not only did it end up clogging my pores, but all the harmful ingredients in today's skin care products was wreaking havoc on my skin. So I decided to stop buying a lot of the the harmful products out there, and replace them with natural, skin nourishing ingredients that actually worked. A good resource for finding out about natural brands and products would be
Paige Padgett
, she really knows her stuff! Read on to find out more about the products mentioned above and why I love them.
A good scrub to exfoliate dead skin cells off is
absolutely necessary
and I found this
facial scrub
to be a life saver--it plumps your skin, leaves it super soft and-- bonus point: it smells like pumpkin pie! I always see the
Caudalie Beauty Elixir
mentioned in magazines and being hailed by models and make-up artists as a "must have," and they're not kidding, you can spray it directly on your face as a toner. I have some old acne scarring and I found that
this
radiance serum is light, natural, and effective, without the scary ingredient: hydroquinone that is in a lot of lightening and scar fading creams/serums. Also seen in countless magazines and backstage fashion shows, is the classic and beloved facial moisturizer--
Embryolisse Lait Creme
, which is massively used by French women (and we know the French know their stuff when it comes to skincare), smells incredible and leaves your skin feeling smooth, silky and dare I say--like buttaa. Seriously, you will be a convert for life.
Josie Maran Argan Oil
is amazing to use not only on your skin but also on your hair, lips and cuticles. My favorite
eye cream
is not the most natural, but it is formulated without parabens (and that is very important to me) and it is the ONLY one I've found that actually helps with dark circles.
Dr.Bronner's
soap bar is a classic and as pure as you can get with the ingredient list--did I mention it smells amazing?
Rosebud salve in strawberry
and the
EOS lip balms
are my go to's for soft, smooth lips. I've been using this daily
moisturizer
for day time since my college days--it just works for my skin and its cheap. This
body cream
is the best! It hydrates, nourishes, leaves a sexy sheen, and smells incredible--not so cheap but it is amazing and you need it in your life, trust me. And last but not least--
coconut oil
(organic, unrefined) I won't go into all of its uses since there are so many, but I use it as a hair mask, body moisturizer and face moisturizer--it leaves your skin so supple and glowing.
Hope you found this helpful and let me know if you have any questions!
xoxo, Grace