I wanted to switch things up a bit and bring you my newest obsession: sopa de pollo con limon-- aka chicken lime soup. It is delicious, healthy, affordable and oh-so-comforting. I heard about the recipe from a friend and she got it from this website called
budgetbytes
they have a ton of great recipes. I'm not a domestic person by any means--I mean I can whip up some tasty dishes but I generally need a recipe to follow or I have a mini panic attack. I love when I find recipes that are yummy but also easy to make because honestly, after a full work day, who has time/energy to be in the kitchen all night. Anyways, my point is, if I can make it, you can make it. So lets dunk in, shall we?
A little spicy, salty, with some fresh lime juice and the creamy avocado chunks...divine-ness. Is that a word?
Here's what you'll need:
- 2 Tbsp Olive Oil
- 1 Medium yellow onion
- 2 Stalks organic celery (I added less because I'm not a fan of celery)
- 1 Medium jalapeno
- 5 Cloves garlic
- 3/4 lb. organic chicken breast (about 1 chicken breast depending on size)
- 6 Cups organic chicken stock
- 1 (14.5 oz) can of diced tomatoes with green chiles
- 1 Tsp oregano
- 1/2 Tbsp cumin
- 1/2 Bunch of organic cilantro (roughly 1 cup)
- 1 Medium avocado
*side note: you don't have to use organic ingredients but I do my best to buy organic whenever/wherever I can :)

Total Prep Time: 10 Min
Total Cook Time : 1 hour and 15 min.

1. Dice up the onion, celery, jalapeno (scrape out the seeds), and mince the garlic. Then, saute everything in the olive oil for about 5 minutes over medium heat.
2. Add in the chicken breast (just dump it in, no need to cut it)
3. Along with the chicken breast, you'll add the 6 cups of chicken stock, the can of diced tomatoes with chiles, the oregano and cumin. You'll end up with this: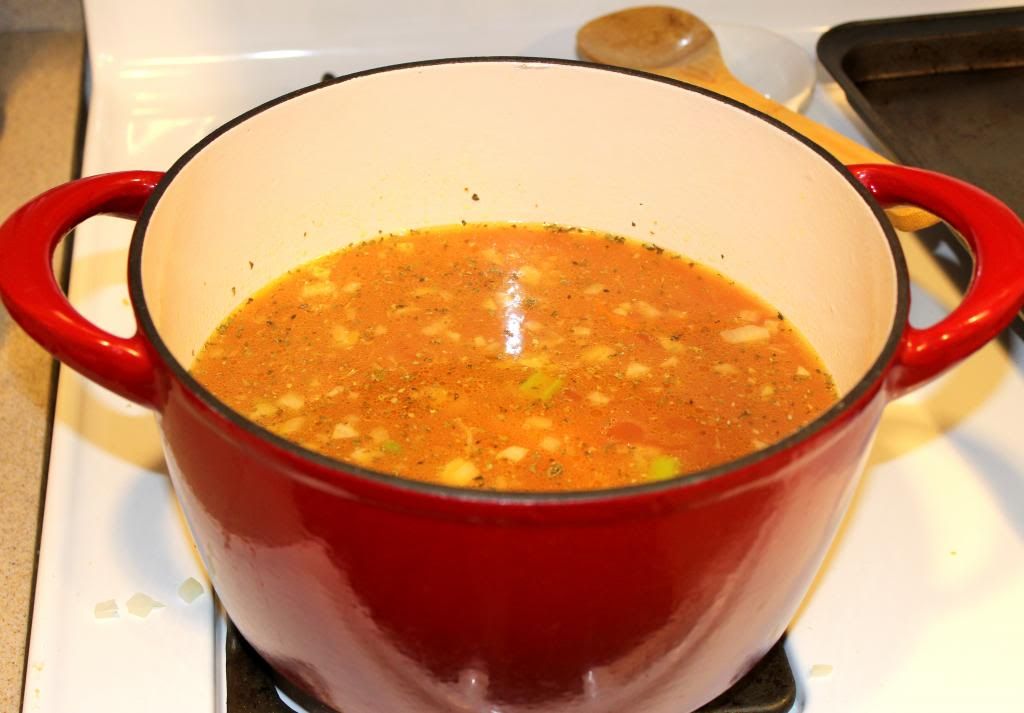 4. At this point, bring the pot to a boil (uncovered) at high heat.
5. Once your pot is boiling, turn the heat to low and cover the pot. Let it simmer for 1 hour.
6. After its been simmering for an hour, take the chicken out and shred it using a knife or two forks. The chicken will be tender and moist.
7. Put the shredded chicken back in the pot, add the juice of 1 lime (I used 2 but it depends on how juicy your lime is)
8. Wash your cilantro thoroughly. Chop it roughly and add to the soup.
9. Optional: Dice up some avocado and add to the soup right before serving.
10. And voila! Go plop your butt on the couch, and ENJOY.