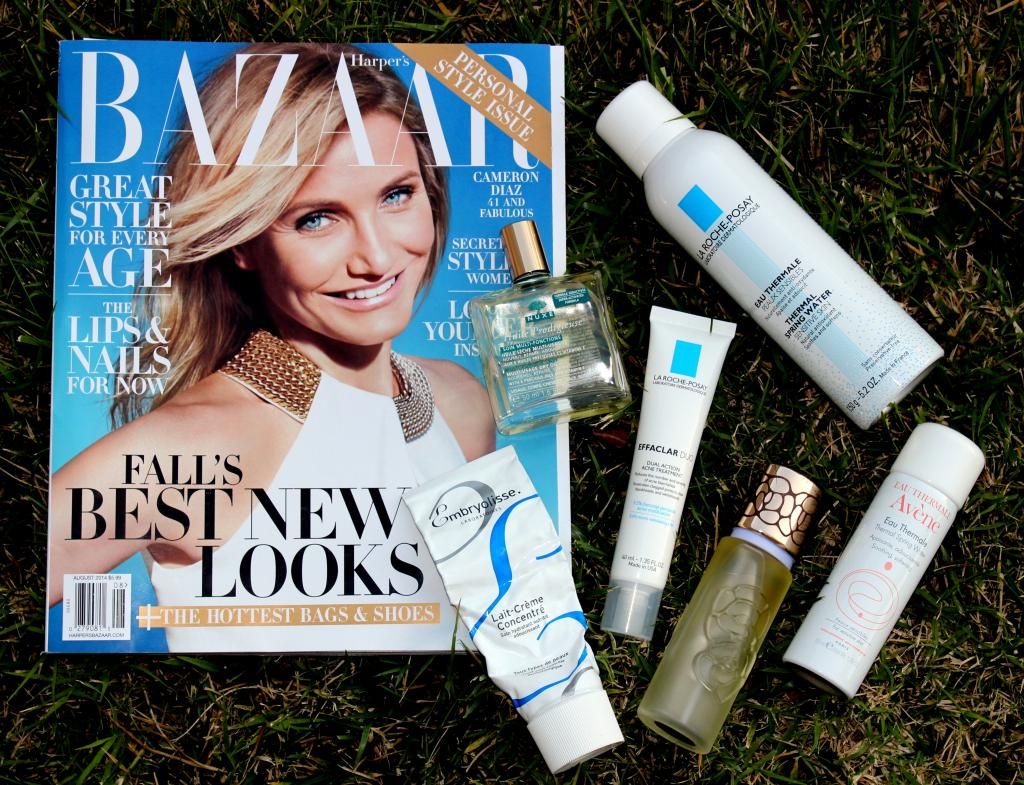 Bottom Three Products -
Embryolisse Lait-Creme Concentre
,
Quelques Fleurs Eau de Parfum
,
Avene Thermal Water
There has always been an interest in French beauty products but over the past couple of years it seems to have increased dramatically. Before all this attention, these French skincare gems could only be found in French pharmacies and so people would stock up on all their fave products on a visit to Paris. Luckily for the rest of us, we can now easily order the majority of these products over the internet through sites like Dermstore, Net-A-Porter and Amazon. The products mentioned above are my favorite and there's still more I need to try. Here's a breakdown:
1.
Nuxe Huile Prodigieuse Multi Use Dry Oil
- I really love it for my hair (just on the ends) and I also use it for my legs and shoulders when I'm showing a little skin for that subtle sheen. It has the most divine scent that lingers throughout the day. I'm in love!
2.
La Roche-Posay Effaclar Duo
- This beats any spot/acne treatment I've ever tried. If you have any break outs or have those pesky little red zits that just sit there in the center of your forehead/cheek--this stuff will zap them away. It literally decreases the redness and size overnight--say whaaat?! Amazing.
3.
La Roche Posay Thermal Spring Water
- I've been using this brand since my college days and this is one of my favorite products from them. Its basically magic water in a can that you spritz on your face after cleansing and it not only refreshes your skin, but it softens, reduces redness & irritation and tones your skin with Selenium--a powerful antioxidant. And its cheap!
4.
Embryolisse Lait-Creme Concentre
- A classic favorite that's been mentioned time and time again by models and make up artists all around the world. I'm on my 4th tube and I can't imagine not using this. It is the perfect moisturizer and you can even use it as a makeup remover and as a makeup primer! So gentle and full of shea butter,vitamins and fatty acids that plump up your skin.
5.
Houbigant Paris Quelques Fleurs L'Original
- Not really a skincare item but I wanted to include this is as it is a timeless symbol of French elegance. The first formulation was created in 1912 (told you it was timeless!) and the name translates to "some flowers." It is a truly floral scent which I'm not a huge fan of but this is floral done right. It has notes of orange blossom, carnation, bergamot, tuberose and jasmine to name a few. In my opinion it is a master piece and I try to only wear it on special occasions.
6.
Avene Thermal Water
- This is very similar to the La Roche-Posay thermal water but I still wanted to include it as it comes in mini sizes that are perfect for travel. Also, Avene is brand I highly recommend as all their products are suitable for sensitive skin and are made with high quality ingredients. I'm also obsessed their
soap-less cleanser
, which I've run out of and need to buy more!
Hope you enjoyed this post and that you'll try some of these products for yourself. They've made such a difference in my skin and I couldn't recommend them enough.
xoxo,
Grace